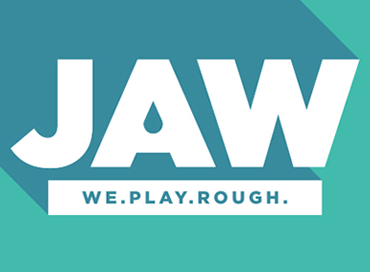 Portland Center Stage at The Armory
announced that they will be interpreting all four of the
JAW
staged readings on the weekend of July 29 and 30.
What is "JAW,"? you may be thinking. Let me start by explaining what it is, and then I will tell you about these exciting new plays which are going to be presented to the public for free. There will be one staged reading of each of the selected plays, and all of the performances will be interpreted.
JAW
(
J
ust
A
dd
W
ater) is PCS's annual playwright festival. Selected playwrights, chosen from over 200 submissions, come to Portland "to spend two weeks collaborating with directors, dramaturgs, actors, and other theater professionals from across the nation. During these workshops, JAW playwrights get to hear, revise, and sometimes completely rewrite their plays in a supportive environment where their creative needs set the agenda. The festival culminates in a vibrant outpouring of artistic energy: staged readings of the JAW plays are presented to the public, while unique performances from local artists enliven our building and bring our community together. "
This festival is about "the vitality of this ever-changing, crazy fun, wild world of theater."
This will be the first time these plays are presented to the audience. The work is fresh and exciting, the stories vibrant and alive.
You can visit the JAW webpage for more information about the process and the festival, and about the playwrights. Below is the schedule and a summary of each play.
Schedule of JAW 2017 play readings
Saturday July 29 at 4 p.m.
Tiny Houses
by Stefanie Zadravec
On July 17, 2014, Malaysian Flight MH-17 rained down upon a tiny, war-torn Eastern Ukraine village after being targeted by a surface-to-air missile launched by pro-Russian Separatists. Bodies and objects alike become fodder for those trying to escape the circumstances in which they were born. TINY HOUSES is a comic riff on Pandora's Box that explores the ripple effect on several women who suddenly realize they can disrupt the status quo.
Saturday July 29 at 8 p.m.
Testmatch
by Kate Attwell
Present day: A rained out women's cricket match between India and England leaves tensions bare and as the rainy day drones relentlessly on, no one can play nice any more. Then: The British East India Company rules in eighteenth century West Bengal, as two members of the Royal Cricket Team, ardent players of the game, debate the rules of engagement, the problem of the women, the trouble with mosquitoes, all against the backdrop of a country that they are destroying through famine. And before that?... Testmatch is a new play about women's sports, mangos, cricket, and ever present legacy of colonialism; written for an all-female cast.
Sunday, July 30 at 4 p.m.
In Old Age
by Mfoniso Udofia
Isolated within the walls of her derelict New England home and suffering the residual pain of years of abuse, an ancient Abasiama Ufot makes an unlikely spiritual connection with an elder stranger, Azell Abernarthy. Just as life takes a new turn, Abasiama and Azell learn the true nature of love and forgiveness.
Sunday, July 30 at 8 p.m.
Small Steps
by Briandaniel Oglesby
Finally fed up with the bot-and-disappointment-filled world of online gay dating, Skip Powers volunteers to go to Mars. And NASA says, "You'll do." This is a comedy that traverses 50 million miles and a million years.
.You can read more about the
history of JAW
since its inception in 1999.